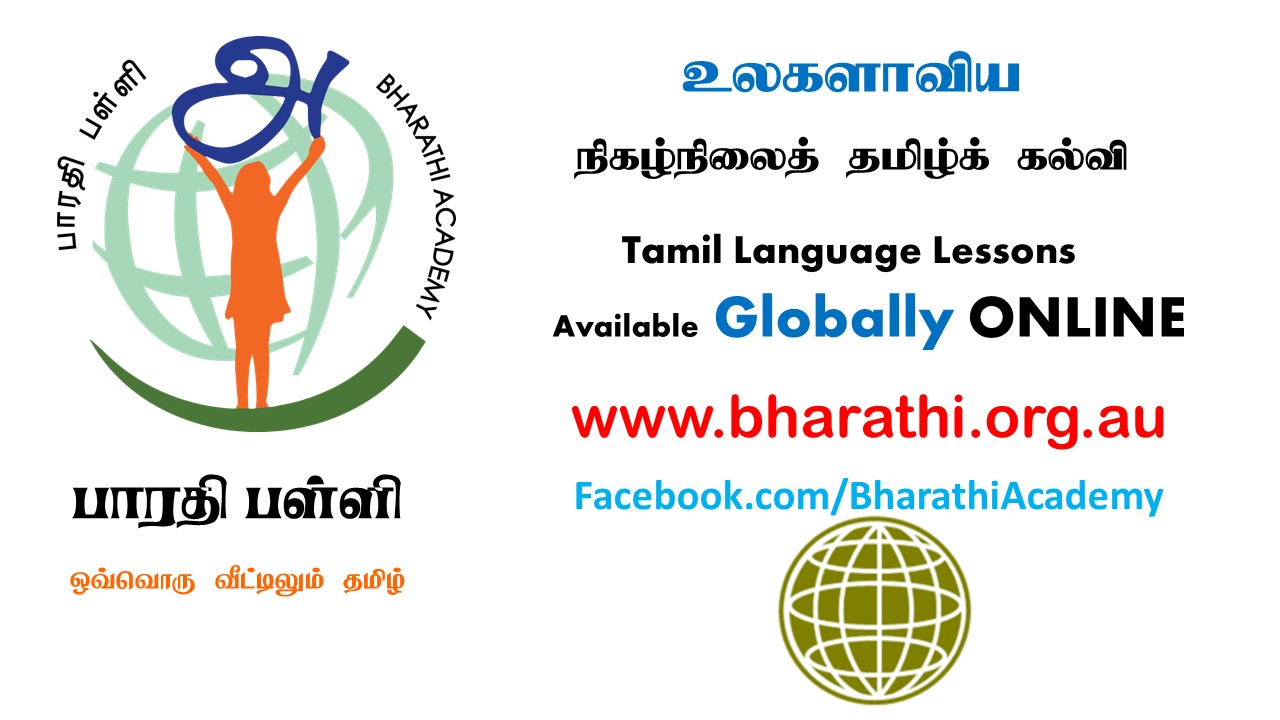 Sustainable NE is in partnership with Bharathi Academy, a renowned Tamil language school based in Melbourne, to promote Tamil language education worldwide.
Bharathi Academy is an outstanding, 'technology smart' Tamil school and a world leader in Tamil language education. It is a registered charity, incorporated in 1994. Within 2 years of formation, Bharathi Academy became well known worldwide when it released the "Paapaa Bharathi" videos, the first videos ever made in Tamil for children.
Well trained and passionate teachers are conducting the weekly lessons. You or your children can learn Tamil from the comfort of your home.
Our shared objective is to bring Tamil to every Tamil child, globally.
High quality curriculum and rich, colourful resources backed by state of the art technology are keeping the students interested and motivated. With these lively and interactive Tamil online lessons with a specialist teacher, your child will grow in confidence to speak, read and write.
Student drop out is at a negligible level in our online classes.
We also offer spoken Tamil online lessons for children and adult learners.
Learn Tamil. Start today!
Please write to:     sustainablene@gmail.com
Watch Video in Youtube:
https://youtu.be/kc7ogtZuqAk
For more information on 'Tamil Online Worldwide',
For more information on 'Spoken Tamil Online',
Sustainable NE, உலகப் புகழ்பெற்ற பாரதி பள்ளியுடன் இணைந்து, உலகெங்கும் தமிழ்மொழிக் கல்வியைப் பரப்பும் பணியை முன்னெடுத்துள்ளது.
நீங்கள் உலகில் எங்கிருந்தாலும், இணைய வழியாக இலகுவாகவும், சிறப்பாகவும் தமிழ் கற்கலாம்.
பாரதி பள்ளியானது ஒஸ்ரேலியா மெல்பனில் 1994ம் ஆண்டிலிருந்து சிறப்பாக இயங்கி வரும், உயர்தரமான தமிழ்ப் பாடசாலையாகும். இப்பொழுது உலகரீதியாக விரிவு பெற்று, தமிழ்க் கல்வியை உலகின் எல்லாப் பகுதிகளுக்கும் இணைய வழியாக எடுத்துச் செல்கிறது.
'உலகிலுள்ள ஒவ்வொரு தமிழ்ப் பிள்ளைக்கும் தமிழ்' – இதுவே எங்கள் இணைந்த குறிக்கோள்.
3 வயதிலிருந்து வளர்ந்தோர் வரை, எவ்வயதினரும் தமிழ் படிக்கலாம்.
பயிற்றப்பட்ட ஆசிரியர்கள் திறமையாக நடத்தும் இணைய வழி வகுப்புகள்.
கேட்டல், பேசுதல், வாசித்தல், எழுதுதல் ஆகிய யாவும் உள்ளடங்கிய, உயர்தரமான, மகிழ்வூட்டும் பாடங்கள்.
திறமையான தொழில்நுட்பத்தின் உச்சப் பயன்பாடு.
மேலதிக விபரங்களைப் பெற எழுதவும்: sustainablene@gmail.com
Watch Video in Youtube:
https://youtu.be/kc7ogtZuqAk
For more information on 'Tamil Online Worldwide',
For more information on 'Spoken Tamil Online',